The Eastern Regional Network (ERN) is a consortium of network providers, universities, and industry partners who are dedicated to advancing data and compute intensive research. Led by a coalition of the willing, which includes Rutgers, The State University of New Jersey (Rutgers), the ERN aims to provide layered and transparent access to shared data and computing facilities to a broader research community. This regional research and education platform allows each campus to benefit from collaborative multi-institutional resources, providing their students and faculty with new and exciting opportunities and helping to further advance research initiatives.
The ERN had a virtual meeting in June with over 170 attendees, where representatives from 28 colleges, nine regional network providers, and five industries came together to discuss regional cyberinfrastructure and how to achieve the consortium's mission. "During our meeting, we learned that two ERN-related proposals that we submitted to the National Science Foundation (NSF) had been funded, which was really exciting," says Dr. James Barr von Oehsen, Associate Vice President of the Office of Advanced Research Computing (OARC) at Rutgers. "One proposal focused on creating a cyberinfrastructure team that provides support to schools across the region and helps educate those interested in getting access to cyberinfrastructure."
The other proposal submitted to the NSF is a planning grant that collects information from research and education groups located at partner campuses about the challenges faced when sharing resources and data within multi-institution collaborative projects. "This grant will allow us to formalize seven different working groups focused on various parts of the ERN and tie them together to give us a clearer direction," shares von Oehsen. "As a collaborative group, we can lay a foundation for where we want to go and how we can better support the research community."
Identifying the Challenges
The ERN will continue to have conversations with key stakeholders within the community to learn about the challenges they are facing when conducting collaborative research. Based on this knowledge, the consortium will build services and capabilities that help solves these problems. "The planning grant includes talking to researchers, CIOs, Vice Presidents of Research, provosts, deans, chairs of departments, and IT organizations," says von Oehsen. "We will run a series of workshops that conduct a deeper dive into topics that resulted from the all-hands meeting, collect information, pull together position papers and lessons learned, and create action items to share with the community. Once we gather all this information, we can create several grant proposals that we plan to submit for future funding of the ERN."
One working group, Broadening the Reach, includes researchers, educators, regional network providers, and senior administrators from under-resourced campuses, including MSIs, HSIs, HBCUs, and EPSCoR institutions.This NSF-funded project aims to learn directly from this community on how best to support their research and education needs through access to research computing and data, core facilities, and expertise. "There are well over 2,000 colleges and universities in the northeast, and most of them are under-resourced," shares von Oehsen. "Broadening the Reach is focused on gaining a better understanding of these institutions and what resources their students need access to in order for them to become more competitive within the workforce. The goal of the group is to bring people together from both the administrative and the research and education side of the university along with members of the ERN community and exchange experience and insight. Even amid the challenges brought on by COVID, we're finding virtual meetings are allowing more of the community to attend and interact, helping in fact, to broaden the reach to a greater number of institutions."
Gathering Input and Insight
As the ERN further expands distributed federated services that span multiple campuses, an understanding of data sharing policies is essential. Among the ERN working groups is one focused on campus policies and agreements. "This group makes us stand out from other organizations because policy is often an afterthought," says von Oehsen. "We're inviting people from the community to share with us the policies they have in place. We meet with those who are responsible for writing these agreements and use this information as we build out services to connect our campuses."
Among the working groups, one committee concentrates on architecture and federation and collecting information from all the other working groups. They then use this compiled information to create a design of what the ERN infrastructure will look like going forward. "This process is a very daunting task, but the group of highly intelligent, technical people is successfully working through the details," says von Oehsen. "We have made a lot of headway on the design and building our workflow diagrams of how certain systems will be connected."
Above all else, von Oehsen says the people using the environment are the most important part of further advancing the ERN and creating a next-generation platform. "Three of our working groups are focused on research and education including structural biology, materials discovery, and computer science. We felt that if we understood the challenges related to these areas, we could develop solutions that have the broadest impact in helping researchers be more productive in conducting their research by offering a collaborative environment that benefits the greater community."
The computer science working group will lead experimentation and cutting-edge innovation, helping the ERN build effective and transformative test beds within their environment. The structural biology and materials discovery working groups will learn from these research communities on challenges they face with collaborative research, including accessing core facilities and research computing and data services. "These groups generate incredible amounts of data and they are a very well-connected community," says von Oehsen. "They struggle with how to share their data, both nationally and internationally, and giving other researchers access to their instruments. We believe if the ERN can create solutions for these three research communities, all disciplines across the community will benefit."
The seventh working group advocates for diversity, equity, and inclusion in the research community and attracting a wider group of individuals to STEM fields. "We are looking at how different universities are promoting diversity and inclusion on their campuses and using that as a foundation to build upon in our own community," shares von Oehsen. "We also want to educate and excite students about STEM and the career paths available to them. This group will have a huge impact on the future of the ERN and we're excited to see the positive change that we can accomplish as a larger community."
"Edge's commitment to advancing research and education is clear, especially with Dr. Forough Ghahramani joining the team. Not many RENs have a person dedicated to research in the community. Dr. Ghahramani coming on board was perfect timing for all of us, since so much is changing across the industry. Having somebody on the team from a research background is so beneficial and she has been a wonderful partner in facilitating conversations across the state. Other RENs have reached out to Edge to better understand her role and how they can replicate these responsibilities, because many are realizing they have been more focused on education than on research."
Dr. James (barr) von Oehsen
Vice President for Office of Advanced Research Computing,
Rutgers University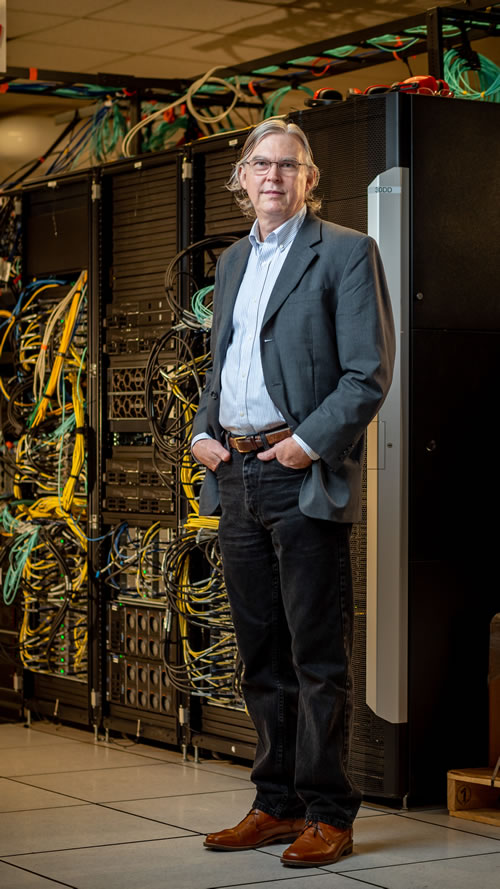 Expanding Network Connectivity
The ERN leverages the special relationship between researchers and the people who build and support research cyberinfrastructure in the region that it serves. Within the ERN, ten research and education networks (REN) play an important role in connecting institutions across the region. "The RENs are on the frontline and are vital to helping us connect to our region's schools," explains von Oehsen. "By leveraging the relationships that RENs have with many of the colleges and universities, especially the under-resourced institutions, the ERN can better understand how to interact with non-R1 research institutions within our area."
As the ERN moves forward, the consortium is exploring ways to improve connectivity between RENs to build a faster network layer that expands to other areas of the country. On board with helping achieve this mission, Edge is dedicated to creating access to advanced computing resources and expanding research connectivity to institutions in the area and beyond. "Edge's commitment to advancing research and education is clear, especially with Dr. Forough Ghahramani joining the team," says von Oehsen. "Not many RENs have a person dedicated to research in the community. Dr. Ghahramani coming on board was perfect timing for all of us, since so much is changing across the industry. Having somebody on the team from a research background is so beneficial and she has been a wonderful partner in facilitating conversations across the state. Other RENs have reached out to Edge to better understand her role and how they can replicate these responsibilities, because many are realizing they have been more focused on education than on research."
Enabling Cutting-Edge Discovery
After meeting Jack Brassil from Princeton University at a conference, von Oehsen kept in touch with him as they developed research platforms at their individual campuses and discussed how they could connect their two test bed environments to create a New Jersey-wide advanced networking and edge test bed. "The test bed we built at Rutgers is a 100-gigabit, fully programmable network that spans all our campuses, we now have advanced networking that extends down to Camden, Piscataway, and New Brunswick, and up to Newark," explains von Oehsen. "With Princeton and Rutgers both being partnered with Edge, this collaboration allows us to find a way forward in connecting our experimental research network and edge testbeds at our two universities and have this network span more of the state."
Both Princeton and Rutgers are partners in a newly-funded project, FABRIC, to help create a nationwide research infrastructure that enables the computer science and networking community to develop and test novel architectures. "Rutgers campuses connect through a mix of Rutgers-owned fiber and Edge fiber, with Princeton having the same set-up," says von Oehsen. "With Edge as a central piece, tying together Rutgers and Princeton's research networks will be much easier and we can ensure the enterprise network on our campuses is kept separate from the research network—allowing more cutting-edge discovery and innovation."
Finding New Opportunities
Similar to countless industries around the globe, the research community has been greatly affected by COVID-19 and the constraints the pandemic has put on their day-to-day activities. "Our workload at Rutgers has tripled as we try to help our researchers maintain the momentum of their projects prior to the pandemic," shares von Oehsen. "Our faculty members who tend to conduct experimental research were not allowed access to their labs to run experiments, so we helped them transition from experimental research to using mathematical modeling and simulation in order to continue with their research activities. This was challenging for both the researchers and the OARC team and required a lot of training and education on how best to use our research computing and data resources."
As campuses closed, many students were also struggling to access computers and the software needed to complete their coursework. "We received close to a thousand student requests for accounts on our high-performance computing resource," says von Oehsen. "The system was designed for research, not education, so this was a real clash between services; the students trying to do their homework were taking away from the people conducting research. Finding a solution that served both communities was a huge undertaking, plus students required training as well to understand the environment."
Like many campuses, Rutgers moved to virtual learning and had to quickly adapt the network and infrastructure to accommodate increased activity. "As the University moved to remote classes, our faculty members moved much of their classwork into our compute environment and because they liked the virtual desktop environment that we created for the research community. Unfortunately, this environment was not designed for a classroom," explains van Oehsen. "We've had to quickly streamline our processes to meet these new demands. Working through such a stressful situation is difficult, but communication and transparency between all of our teams and the education community was key to meeting the challenge. Sometimes a crisis forces change. The question is, do we give up or do we see this challenge as an opportunity? Our institution has chosen to view this time as a chance to positively change how we do things and discover new ways to better serve and support our students, faculty, and researchers in the months and years ahead."
To learn more about network connectivity and collaboration that can help fuel the future of research and innovation at your institution, visit njedge.net/edge-discovery.