College move-in days are hectic and filled with chaos. Freshmen and their families pull up to dorms in a daze, filled with a combination of fear and excitement. Anxiety rises close to the surface, as friendships are slim and the unknown can be frightening.
Colleges realize this fact and are prepared for these emotions flowing beneath the surface. They have smiling orientation staff waiting near all the doors and on the sidewalk ready to help with the move-in process and to ease any worries. They have activities planned for the weekend that bond freshmen together and help prepare them for the year ahead. The question is how do you reach everyone? How do you provide support as the year unfolds?
One tool colleges are using to alleviate the nerve-wracking experience for students is the Ready Education Student Engagement App (formerly OOHLALA Mobile). This technology platform is specifically tailored for each university and has been designed to meet each unique need, providing students with their class information and essential GPS locations, moderated message boards for students, faculty contacts, safety information and alerts, and other items once found on a variety of apps, websites, and third-party services. The app utilizes the newest technologies available and creates a seamless personalized experience all together in one place, relieving some beginning jitters of mobile-first Gen Z students –on whatever campus they're located.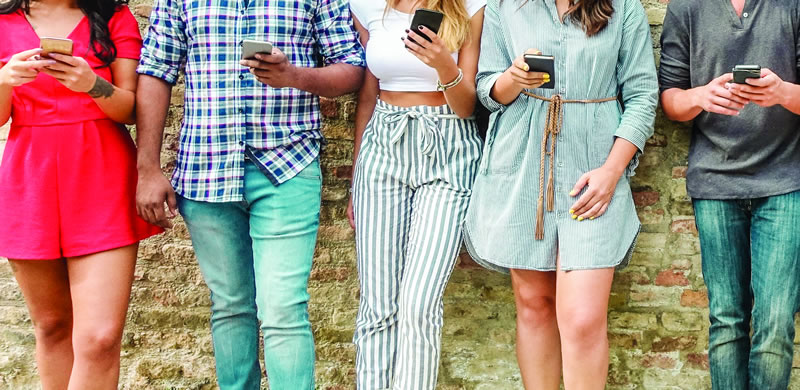 Ready Education Co-Founder and CEO Danial Jameel saw this need first-hand while he was attending the University of Toronto and working in the Student Life department. Their small staff was trying to gather resources for over 15,000 incoming students.
"The whole premise of Ready Education came about because of the personal problems we were facing with orientation," Jameel said. "It is a huge campus. We had 65,000 students, and 15,000 freshmen would come in every single year. Each freshman student would have unique needs and many fell through the cracks."
The University's Student Life team quickly realized that not all students are the same. Each freshman steps on campus with a different background, whether they are reference students, part-time students, commuter students, or first-generation students. The diversity is wide-reaching and it can be difficult for a small orientation team to connect, engage, and retain all of them in a way that makes them feel wanted.
"The vast majority of dropouts in North America happen with freshmen," Jameel said. "35% on average of freshman students in the U.S. drop out every year, and if you look at data, it's not because of the grades at all. There are other factors that impact this decision, which is why our question was how do orientation staffs of eight to ten people become capable of engaging and connecting with 15,000 students."
A Visionary Approach to Student Engagement
Jameel's vision was to use technology to help build an intimate connection between the orientation team and students. The ideas grew into reality when the Ready Education technology launched in 2011, and it now impacts this mobile-first generation in over 350 institutions across North America and beyond. Of those colleges and universities, Jameel and his team have found that on average, they get 85 percent app adoption amongst freshmen students within the first couple of months.
A significant benefit of Ready Education is how it helps each higher education institution with their unique needs. Once a college or university signs on as a client, the personalized platform can be up and running in as quickly as six weeks, sometimes even four. Almost immediately students and school staff are benefiting from the app's features.
For instance, the campus wall portion of the app allows students to post questions about housing, purchasing books or finding the best places to eat. They will receive answers quickly back from the campus community or get alerts when they need to be somewhere. School Administration can post important information and create custom channels that are specific to life on campus, targeting certain audiences or sending information out for everyone.
The alert feature became especially important back in 2015, when the terrorist attacks took place in Paris, France. American University of Paris used Ready Education to save lives. The app provided an instant means to directly and efficiently communicate with their students. The institution had students off campus nearby the theater, and they used the Ready Education system to send discreet notifications out every 10 minutes informing students of what to do, how to stay safe, who you shouldn't call and other important information for the time.
"In all of the confusion, the University was able to stay in touch with their students to make sure that they got the message and they were targeting the right group of students," Jameel said.
In a different way, the app has also been a game changer for college students at a community college in rural Kentucky where 60 percent of the students are first generation, making the experience even more complex.
A particular female student needed a large amount of financial aid to attend and worked late nights at Wal-Mart to afford college costs and textbooks. The student wasn't raised in an environment where planning and setting goals took precedence. The app was able to help her stay on track, including utilizing the study timer to mix studying and rest, based on the Pomodoro and MIT time management techniques.
Creating Opportunities for Student Success
The essence of Ready Education is to eliminate hurdles so students can adapt and handle the complexity of college. There are a number of services and requirements for a student to quickly understand.
"There's so much noise for a student to hurdle," Jameel said. "A student today is not what it was in the past, where they would study full-time and graduate in four years. In fact, the average graduation is five to six years now."
The technology adapts to each student's needs, profile and their requirements. It delivers information to them rather than just giving them a huge list of directories, websites or portals. The app technology eliminates the frustration of waiting for students to figure it out, especially when today's generation lives in real-time and expects instant feedback.
"College is a very complex environment and students can struggle to figure out what they have to do and when they have to do it and it becomes a big challenge for them," Jameel said. "If you provide students with information that's relevant to them in a timely manner, they will engage, but if institutions fail to do that then we tend to have disengaged students."
Another problem with disengaged students is they tend to become dropouts or transfers – two important student groups that universities are fighting to keep on campus. The Ready Education technology helps colleges provide relevant personalized information, so students don't become overwhelmed with impersonal email blasts, posters and announcements. Institutions can eliminate the information funnel and provide support before it's too late.
"I've spoken to a lot of mental health departments on campuses and their biggest issue has always been it's not that we don't care. It's not that we don't know. It's quite often students come to us when they're already well past intervention and then that's a challenge," Jameel said. "When they're already about to drop out, when they're already depressed, we would appreciate if we could figure out a way to reach out to them sooner, and that's one of the problems our platform is solving."
The Ready Education App in Action
It's solving these types of problems at Eastern Michigan University Holman Center. Director Christine Deacons uses Ready Education to oversee focused programming to 400 high-risk students at the center, and on paper, these students have a high probability of not being retained, despite the tailored programing. The platform verifies students are attending class, as well as making sure learning outcomes are being completed. Staff members are also using it to provide intervention and support for each student before they get frustrated and discontinue their college education.
Ready Education also has the ability to seamlessly work with existing infrastructures. They are able to connect with a leading provider or all the various systems, whether it's LMS, SIS or any other campus system. The Ready Education team doesn't want any university to have to reinvent the wheel or actually change anything.
Integrating with existing technology is precisely what they did at McGill University in Canada where the institution's previous system wasn't upgrading to the newer system, but the University had very complex software that departments required. McGill needed another solution to help with the complexity. Ready Education was able to help their systems communicate with each other so they would work and be used.
The app can integrate with many different events sources, including custom APIs, Facebook, ICAL, and RSS. The client can use the Ready Education calendar to showcase events from websites or use the events API to pull a single feed of all the events for a person's own internal use.
"We do a lot of that heavy lifting, which is really important for the universities, especially their IT departments because they don't want to go through a process where they have to adopt and teach another application or platform that isn't necessarily going to work or talk with what they already have," Jameel said.
Institutions also need programs to be effective for them to be successful. They require technology that is going to help students but also be efficient, because it all goes beyond a list of features and products. The few lines of algorithms need to improve student outcomes by being engaged and persistent, otherwise it's not doing its job. The need for efficient technology is why institutions are looking for an app, platform or a LMS system that is actually going to meet the needs of their students and improve the outcomes moving forward. They want to use the results to be able to forecast a student's future and measure success semester over semester.
Useable and actionable data is something Ready Education technology provides their colleges and universities via efficacy reports. The company teams up with the school's assessments team or the dean of retention and provides studies that show how the platform actually impacts student engagement. Jameel says it goes past clicks and views because that doesn't always provide relevant information for efficacy.
"The clicks and views are helpful in terms of which students are attending workshops or career fairs or things that have a positive impact on life, but when measuring things like retention or dropouts by semester, it doesn't provide relevance," Jameel explained.
The efficacy reports measure cohorts of app users versus cohorts of non-app users. They take the information and improve the indicators and help solve communication, complexity, and efficacy issues. The data also helps predict where student engagement should increase, which is different than other computing mobile products available on the market.
The detailed data from the efficacy studies offer a year's snapshot of each institution, but also helps with research. Ready Education can show an institution which features were used as well as peer-to-peer communication of whether students used it to check in and out of activities or to talk to an advisor. This data can be combined with other reports so the institution can see how the app features are tied into the student's well-being, student engagement, persistence, retention, and other things administration boards look at for decision-making.
The rise of actionable data is important because many institutions are cutting budgets and students are looking for alternative education options. Higher education has increasingly become more competitive in terms of enrollment and retaining students.
"We're at a time where all of these different situations are colliding and we can provide a university with a cost-effective solution that will help support their students at scale and personalize the experience for them," Jameel said.
Ready Education also uses a National Survey of Student Engagement (NSSE) survey, where they measure student engagement in relation to the mobile platform and student engagement platform, allowing students to share what they feel about how things worked or didn't work. Their last survey ran for two weeks and had 45,000 students respond and complete the entire survey.
"The survey results provided us with a much broader picture of what students need and what they're looking for," Jameel said. "The universities are then able to look at the survey report and see the snapshot of what students think."
The feedback Ready Education receives back is far above the norm. In the past, when student feedback and surveys are taken, response rates are often 20-30 percent. Consequently, decisions are often made on this low percentage of feedback.
"On average, our platform is showing more than 80 percent student feedback within two to three hours of the event finishing, which provides a real-time data set," Jameel said. "But the fact that universities now have access to real-time data to understand and make better decisions is a huge change."
Reports of this nature helped Youngstown University and their team, providing transparency and visibility and allowing them to be agile in an environment that is usually very slow moving. They were able to make changes and Ready Education brought clarity to their peer tutoring sessions taking place after classes and it also helped with advisors and counseling sessions.
Partnering with Edge
Another one of Ready Education's partners is Edge, a relationship Jameel views as significant because he feels the groups have similar values and goals. The two companies began discussions in 2017 and joined as partners in March 2018. Ready Education now fits under the EdgePro umbrella. Both groups are excited about the partnership and what they can do together.
"I would consider Edge an educational technology leader who values innovation and continuous improvements to the entire student ecosystem. They value outcomes and are very outcome-based, which fits well with Ready Education's overall mission," Jameel said. "The leadership Edge is able to provide is incredibly powerful and it's much needed in an age of constant change. Being able to work with an organization that allows us to not only just provide value in terms of sharing our knowledge but also learn and see the best practices that are available is really exciting and compelling."
Both groups have a mission of providing Edge members with the solutions and tools they need to achieve operational efficiency and the highest levels of solutions and services throughout the student lifecycle. They want to look at the problems students and institutions face holistically and help students succeed by enriching their campus experience and institutions improve their students' outcomes. Their unique perspective looks at both sides of the equation and finds technological solutions that better everyone.
"The fact that we view our problems from a distance and well in advance of student red flags is powerful, in that, it establishes the student as a strong stakeholder. Subsequently, the institution is able to take an active role in partnering with us to solve the right problem," Jameel said.
Ready Education and its partners are relieving students of the complexity of college and providing them with the tools to find life-long success.