As one of the most diverse liberal arts colleges in the country, Bloomfield College takes pride in their student community, believing a college should be measured by the institution's ability to improve the lives of their students. More than half of the College's students are first-generation, being the first in their families to pursue post-secondary higher education. To help their students be successful and move forward in economic standing, Bloomfield is committed to making college financially possible and empowering each and every student with the tools and knowledge needed to achieve their dreams for the future. In June of last year, Dr. Marcheta Evans was appointed as president, making her the first woman and African American to lead Bloomfield College in the institution's 150-year history. Evans is deeply dedicated to the vision and mission of the College and helping the school become a role model for inclusive excellence.
Making History
Graduating from the University of Alabama, Evans earned her Doctor of Philosophy degree in Counselor Education and Supervision, specializing in Student Affairs, Administration in Higher Education, and Human Resource Management. "This education helped prepare me for where I am today," shares Evans. "I think combining the counseling, psychology, history, and administration pieces altogether has helped lead me to my position at Bloomfield. Seeing there are very few female college presidents, and even fewer females of color in these roles, I became very strategic and determined to gain the opportunity to become president of a college, particularly a minority serving institution such as Bloomfield College."
Bloomfield is the only New Jersey institution to be recognized as a Predominantly Black Institution (PBI) and Hispanic Serving Institution, and is also a Minority serving Institution. Evans wants students to see that she navigated higher education and achieved her dream of becoming a college president, despite moving around frequently as a child, being raised predominately by her grandparents, and dealing with food insecurity. "I want students to say, 'if Marcheta can reach her goal, so can I.' I also strive to be the voice for others who are working in higher education and showing them the importance of being culturally competent when working with students."
Nearly ninety percent of Bloomfield students are receiving a form of financial assistance or scholarship. "Bloomfield is one of the highest in the nation for socioeconomic mobility," says Evans. "The group is broken into quintiles and our students in the lower group rise up to the second quintile upon graduating and getting a job in their field. This accomplishment not only significantly impacts them, but their families as well."
Promoting Student Success
Since joining Bloomfield, Evans established a strategic planning council and conducted a questionnaire of all key constituents to gather insight into where the institution currently was at the time and where the College wanted to go. "We needed to develop a full council to work on strategic initiatives," shares Evans. "One of our first goals is creating a community committed to student success who help enrich, enhance, and strengthen community core values. Secondly, we want to grow and diversify. Being a private institution, most of our funding is coming from tuition, so we are looking for ways to secure additional funding."
Evans says the third initiative identified by the council is establishing strategic partnerships to grow student enrollment. "We're working with other institutions to offer opportunities for advanced education. For example, we recently signed an agreement with Fairleigh Dickinson University where Bloomfield will offer a pre-pharmacy program at the undergraduate level. In the third year, students can transfer to Fairleigh Dickinson and start in the pharmacy program. Students will graduate from our institution after the fourth year and have the option to pursue a master's or doctoral degree."
Lastly, a large focus of Bloomfield is investing in academic innovation and expanding online learning capabilities. "We currently do not have a program or degree that is fully online," explains Evans. "Due to the coronavirus, our timeline has been escalated and we are exploring ways to get a remote learning program up and running quickly."
Supporting Students Holistically
Creating a college community that is both personally and academically supportive is deeply important to Evans and her vision for the institution. "I take a holistic look at the lives of our students. Ensuring their success is not just about books and passing classes. The goal is to help students become career ready, including guidance in how to prepare and dress for an interview. We have a large variety of student organizations, leadership programs, and mentorships for students to become involved. We hope to have an overarching impact on the life of a student, including inspiring the support and engagement of family."
Amid the uncertainty surrounding the coronavirus, many institutions are trying to determine how to move forward and ensure students, faculty, and staff remain safe and informed. "As a leader, I've learned you must be able to pivot," says Evans. "Currently, there is a great deal of fear and feelings of helplessness. We want our students to know we care about them and we must determine, as an institution, how to take care of our students and staff. Over spring break, our faculty had intense professional development regarding remote education. We had to assess our student and faculty technology needs and determine how to get Internet access to our students."
Like many leaders, Evans isn't fully clear what the immediate future will look like for Bloomfield, but is confident in the abilities and competency of their faculty. "We have a cadre of faculty members who have been engaged in online course development. The situation is changing moment to moment and digital literacy is currently at the top of our minds at Bloomfield. Online learning is going to become even more paramount and there will likely be a shift professionally in regards to majors and academic programs."
"Bloomfield does not have a chief information officer (CIO) and our academic technology is in one house and our enterprise systems in another. We need experts to help us enhance technology, security, risk assessment, technology infrastructure, and bandwidth. We are looking to Edge to help provide guidance in optimization of our campus technology."
Dr. Marcheta Evans
President, Bloomfield College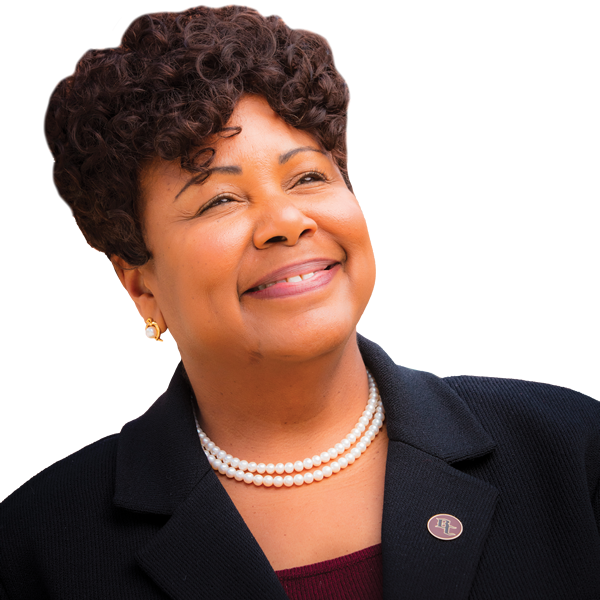 Looking Toward the Future
Moving from Texas to New Jersey, Evans says she is very excited by Edge's commitment to optimizing the technology and infrastructure of the higher education and business community. "I'm currently learning more about Edge and how to best utilize them as a resource," says Evans. "Bloomfield could improve in how the institution is organizationally structured. For instance, we do not have a chief information officer (CIO) and our academic technology is in one house and our enterprise systems in another. We need experts to help us enhance technology, security, risk assessment, technology infrastructure, and bandwidth. We are looking to Edge to help provide guidance in optimization of our campus technology."
Partnering with other educational institutions in the surrounding area is an important focus of Bloomfield to help create pathways of success for students. Evans has met with nearly every school district surrounding Bloomfield to inform counselors about the value and opportunities the College can provide young adults. "Last month we hosted three hundred Newark counselors, principals, and social workers," shares Evans. "The institutional success and recognition of Bloomfield is largely attributed to getting out into the community and talking about our wonderful programs." Bloomfield was founded in 1868 and since that time, has grown to offer over sixty majors, minors, and certificates, and seven academic divisions.
In 2018, Bloomfield received a prestigious recognition from the Princeton Review for the College's game design degree program. Receiving the second spot on the list for New Jersey, and 44th overall for undergraduate schools, Bloomfield College's Bachelor of Arts in Game Design within the Creative Arts & Technology Division is a practice-orientated program that often imitates real-life game development environments. National recognition from the Princeton Review validates the extraordinary programs available at Bloomfield and the College's commitment to giving students the skills and experience necessary to pursue careers in flourishing fields.
The College is dedicated to helping students attain academic, personal, and professional excellence in a multicultural and global society. "We look at our students from a holistic perspective; we know their success goes beyond academic attainment," shares Evans. "While on campus, every student can write their own story, by exploring who they want to be and how to give back to the community around them. Fulfilling our mission on behalf of our students will always be our first priority, because this pledge has a beautiful ripple effect for generations to come."
Learn more about EdgePro solutions and connect with an Edge representative today.
View Article in View From the Edge Magazine