One of Edge's top goals is providing members with access to current advanced technologies at a lower cost—delivering optimum value to both public and private entities. EdgeMarket is a cooperative pricing system that delivers consortium purchasing agreements to its participants. This arrangement is designed to ease the burden of the procurement process and speed the time to implementation and innovation. Dan Miller, President of Advantiv and EdgeMarket Director is working to bring a unique path to digital transformation through supply chain management and enabling members to quickly and affordably procure directly with Edge's authorized partners.
Supply Chain Management
As president of Advantiv, Miller has a national perspective on procurement in education and shares a common vision with Edge on how technology planning and procurement should be conducted—intentionally, collaboratively, and with a commitment to creating successful outcomes. "The supply chain concept means forming partnerships between Edge members, suppliers, leaders, and innovators in the marketplace," shares Miller. "This collective group continuously evaluates and anticipates what is important and what technology is on the horizon. We then prioritize the specific plan of action to facilitate the collaborative procurements of technology solutions or services, while remaining focused on delivering optimal value to Edge members." Edge partners with suppliers to ensure members continuously receive the best return on investment and are effectively using the new solutions and services to achieve their organization's goals.
The Transformative Power of Collaboration
EdgeMarket stands apart from the large number of industry co-ops by the solution's approach to procurement and a long-term strategic view of the overall process. "Edge has an insightful understanding of the member ecosystem and the matrix of technology solutions and services that support an institution's digital transformation," says Miller. "Edge invites members to participate in the procurement process by helping plan and prioritize acquisitions, determine requirements, and evaluate vendors. This collaborative approach is a key differentiator between EdgeMarket and other current co-ops."
By listening to a larger community that includes institutions in education, government, and healthcare, Edge is able to identify the most common technology needs, priorities, and goals, and then determine which solutions can provide the most value. "Leveraging the insight and expertise of members is hugely helpful," shares Miller. "Incorporating members' guidance and lessons learned into the conversation will help each subsequent group and provide the maximum value in terms of future possibilities."
Edge continues to employ the collaborative supply chain model to technology planning and procurement to fuel digital transformation across the community. "We have created the EdgeMarket member portal where we're able to provide access to the resources and the information that our members need in order to create context, clarity, and impel movement," says Miller.
Procurement's Role in Digital Transformation
Procurement is an important element in driving digital transformation and in operating an optimal enterprise information technology program. The outcomes-based strategy adopted by Edge helps member institutions gain the technology and resources they need to move forward. "We want to ensure organizations are trained and equipped to think about the specific measurable business outcomes that they wish to achieve as a result of investing in any technology or service," explains Miller. "These desired outcomes must justify the investment in such a way that supports the mission of the organization and inspires the full support of stakeholders and leadership."
Miller says many departments fail to articulate the specific benefits they could achieve from procuring a new technology or service. "For many organizations, the conversation with vendors during the procurement process is often about features, functions, and architecture. Instead, Edge can help guide member institutions to translate dollars invested to measurable, relevant, impactful, and positive results that support the mission and cultural dimensions of the organization. This approach, coupled with our commitment to collaboration, enables technology procurements to go from simply transactional to essentially transformational."
Partnering with Edge in the procurement process helps a member institution land on a solution and provider that are best suited for achieving their individual outcomes. "During implementation, we always ensure that the decisions and whole governance model are driven by the true north that the outcomes stand for," says Miller. "If the group is doing things that divert from the desired outcome, then we make corrections and realign so the organization meets their desired goals."
"Edge invites members to participate in the procurement process by helping plan and prioritize acquisitions, determine requirements, and evaluate vendors. This collaborative approach is a key differentiator between EdgeMarket and other current co-ops."
Dan Miller
Director of EdgeMarket,
Founder and CEO,
Advantiv Solutions
The DecisionDirector Support System
EdgeMarket aims to be a solutions and services "easy button" by simplifying and streamlining the public bid process. One of the tools used to accommodate the multiple procurement needs of Edge's member community is Advantiv's DecisionDirector®, a collaborative planning and complex procurement support system. "DecisionDirector allows us, on the behalf of Edge members, to engage their stakeholders in meaningful and collaborative activities to clarify priorities, participate in reviewing, and refine questions for vendors," explains Miller. "Once a request for proposal (RFP) is issued, the proposal and vendor evaluations are on the DecisionDirector platform. This availability of information and full transparency allows the vendors to work collaboratively as a team on the RFP response with very detailed and precise response formats for each question. Once the bids are received, we can structure highly collaborative due diligence activities, such as capturing reviews from vendor demonstrations, reference checks, site visits, or the evaluations of written proposals."
DecisionDirector allows organizations to rest assured that their procurement process was transparent, auditable, and supports their ultimate decision. EdgeMarket is leveraging DecisionDirector to streamline and accelerate the RFP process and provide tangible mechanisms to deliver on the highly collaborative supply chain model. In addition, the platform has an extensive content library that members can access for insight into certain procurements. Edge members can view processes and configurations that were successful, while leveraging content that can be reused and customized.
The EdgeMarket Advantage
EdgeMarket has an extensive Technology Solutions Portfolio accessible to members through the EdgeMarket Portal, outlining strategic partnerships and available product and service offerings. "Members can use the portal as a resource to see how to participate, what options are available, steps for identification of potential procurements, and how to take advantage of existing contracts," says Miller. "EdgeMarket is a superior cooperative pricing system available to any organization in the country. We have a national footprint and strive to make an impact on a larger scale by helping as many organizations as possible gain the advanced technology they need to achieve their vision of success."
To connect with Dan Miller regarding EdgeMarket or your organization's emerging procurement needs, Edge members may email him via dan.miller@njedge.net.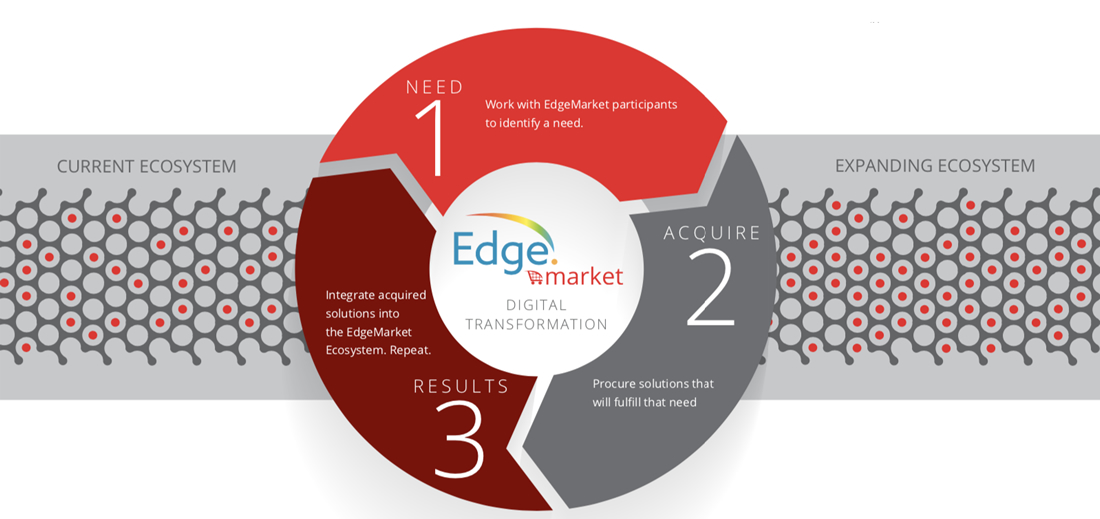 Edge is continually at work in the middle of the digital transformation cycle. Communicating with members to find out exactly what their needs are, and identifying and acquiring solutions that meet those needs. Edge adds those solutions to the catalog of products and service offered to EdgeMarket participants.
ACQUIRE
Process (RFx and Secondary)

Documents

Vendor Engagement

Response Analysis

Due Diligence Activities

Decision Support & Defense

Negotiation and Award
NEED
Identify, Clarify, Prioritize

Individual Member

Groups of Members

Engage/Align Stakeholders

Expected Outcomes

Process/Governance

Requirements
Results
Implementation Support

Outcomes Assessment

Periodic Over Life

Stakeholder Sat Surveys

Overall Process Review

Lessons Learned

Create/Curate/Reuse Assets