Women Leaders in Technology Network: Exploring the STEM Gender Gap
November 12, 2019 from 11:00 am

-

2:00 pm
Join us for a lunch of learning and networking at Rowan University! Learn How One Institution Has Encouraged Diversity in Tech & Engineering via Partnerships & Programs. You'll walk away with more knowledge and new connections gained over a great lunch!
Register
Featured Panel:
Our panel will highlight the programs and pathways in place at Rowan University and beyond to encourage the development, recruitment, and retention of women and minorities in STEM. We'll hear perspectives on the value of STEM programs as part of primary education and how they can provide a vision for career pathways in the future, as well as the real-world partnerships and programs in place at Rowan University which enable women and minorities with ambitions to join STEM fields to do so. The panel will also highlight the importance of diversity in STEM fields as an institutional and societal goal, only able to be achieved by stakeholders of all genders and races coming together to affect positive change.
Panel Moderator
Dr. Mira Lalovic-Hand, Senior Vice President and CIO, Rowan University
Panelists:
Kim Case, J.D.
Executive Director, Research & Development Council of New Jersey /New Jersey STEM Pathways Network, LEAD STEM Collaborator
Dr. Sean Fischer
Associate Dean for External Affairs, Henry M. Rowan College of Engineering
Robert C. Regensburger
Lockheed Martin, Project Specialist Principal
Beena Sukumaran, Ph.D.
Vice President for Research, Rowan University
Keynote Speaker
Dr. Anthony Lowman, Provost and Senior Vice President for Academic Affairs, Rowan University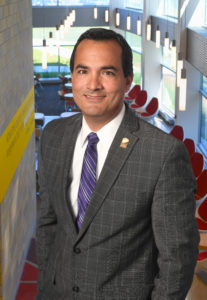 Anthony M. (Tony) Lowman began his current role at Rowan University on July 1, 2019. He previously served as the Dean of the Henry M. Rowan College of Engineering, where he fostered and grew the diversity of the College's undergraduate and graduate programs through key programs and partnerships. Also during his tenure, Tony developed the College's Ph.D. programs, rapidly integrated research throughout the departments, formed critically important industry partnerships, and elevated the College's reputation nationally. Additionally, in his "spare time" he is CTO and co-founder of ReGelTec, Inc. which is developing non-invasive implants for treatment of degenerative disc disease.  His research contributions have focused on the preparation, characterization and evaluation of the behavior of compatible, crosslinked polymers known as hydrogels, which have been used as biocompatible materials in medical devices and controlled release devices for the delivery of peptides and proteins. He has published more than 100 refereed journal articles and book chapters, and has more than 20 US and worldwide patents issued.  His work has attracted more than $20M funding from the Depts of Defense, Energy and Commerce, NIH, NSF, the Whitaker Foundation and private industry.  He is a fellow of the National Academy of Inventors and the American Institute of Medical and Biological Engineers. He was previously honored as one of the top 100 Scientific Innovators in the world under the age of 35 as named by the MIT-Technology Review Magazine.  In 2004, Synthes acquired Gelifex, a company Tony co-founded that was pursuing non-invasive methods for using hydrogels for repair of the nucleus pulposus of the intervertebral disc. During his career, Tony has held academic and leadership appointments at both Temple University and Drexel University.  He received his education in chemical engineering at the University of Virginia (B.S., 1993) and at Purdue University (Ph.D., 1997).
Agenda:
11:00 a.m. – 11:30 a.m. – Networking
11:30 a.m. – 11:50 a.m. – Keynote
11:50 a.m. – 12:30 p.m. – Lunch
12:30 p.m. – 1:15 p.m. – Moderated Panel
1:15 pm – Q & A / Networking
Who Should Attend?
Anyone interested in learning more about women leadership and STEM.
All genders are welcome!
Location:
Rowan University
Chamberlain Student Center
201 Mullica Hill Road
Glassboro, NJ 08028
Registration
Lunch Included!  Cost: $20
Register TODAY!
Students use discount code: STUDENT for FREE registration (including lunch)
Register